Van bi ASAHI - type 21 - hàng có sẵn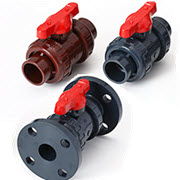 Ball valves perform a quarter turn on/off or modulating function. A flow-controlling ball located within the body of the valve contains a hole through its center along one axis, which connects the inlet and outlet ports of the body. The ball itself is held in place by, and rotates 90º within, PTFE seats.
Type-21/21a ball valves are corrosion resistant plastic manual true union design quarter turn valves with hyperbolic flow characteristics, low pressure drops and reliable sealing. They offer relatively poor flow control and are typically used in on/off applications. They are excellent for use in clean fluid service applications with very little to no suspended solids. Type-21/21a ball valves are well suited for a wide variety of fluid flow applications. True Union ball valves can be lifted from the line, without having to move the piping, simply by loosening the two union nuts. The valves can be disassembled, and parts may be replaced. They can be pneumatically or electrically actuated in our factory or in the field.
Ideal Applications Include:
Isolation valves, water treatment, water features, fountains, aquariums, landfills, swimming pools, power plants, mining, transportation, chemical processing,
Features/Benefits:
-Pressure rated up to 230 psi (PVC, CPVC, PVDF)
-Double O-ring seals on stem for added protection
-Full bore, sizes 1/2" – 2"
-Full vacuum rated, all sizes
-Blocks in two directions, upstream and downstream, leaving full pressure on the opposite end of the valve
-Integrally molded ISO mounting pad for both manual and actuated operations
-Integrally molded base pad to mount valves Securely or panel mounting
-PTFE seats with elastomeric backing cushions ensure bubble-tight shut-off and a low fixed torque, while at the same time compensating for wear
-True Union design for easier installation or repairs without expanding the pipe system
-Built-in spanner wrench on the handle for valve disassembly and assembly
-Two sets of end connectors (socket and threaded) included with all PVC and CPVC valves in sizes 1/2"– 2"
-CPVC threaded end connectors on sizes 1/2" – 1" come with stainless steel reinforcing rings
-New PTFE Seat design – Facilitates easier field maintenance if required
-Tapered O-ring groove – Helps to Keep the end connector O-rings on the valve body during installation
-Body Flats – Flats have been added to either side of the valve body where a wrench can be applied to prevent the valve body from turning when the Union Nuts are tightened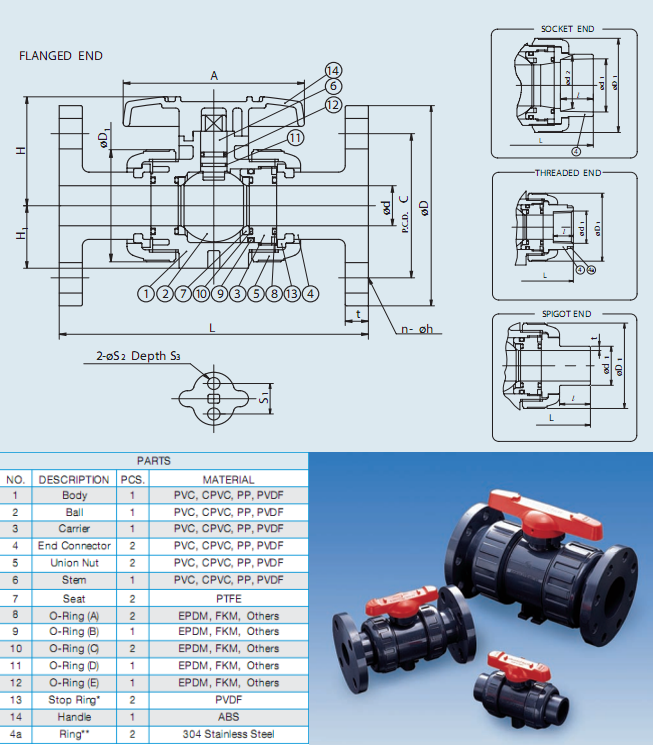 Thông số kỹ thuật
Sizes: 1/2" - 4" (*6" end connections available for 4" valve bodies)
PVC/EPDM/FKM Models NSF-61 Certified
Material & Connection:    PVC & CPVC: Socket, Threaded, and Flanged (ANSI);
PP & PVDF: IPS and Metric (DIN) Socket, Threaded, Butt, and Flanged (ANSI)
Seats: PTFE backed with EPDM or FKM
Seals: EPDM or FKM or AFLAS