Ống Gas MDPE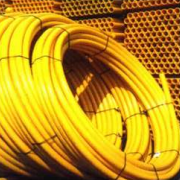 We offer a high quality range of MDPE (Medium Density Polyethylene) Pipes that are widely appreciated for corrosion resistance, flexibility, crack resistance and toughness. Owing to enhanced characteristics, MDPE pipes find extensive usage in the gas distribution system. Further, our pipes also undergo stringent quality checks in the testing facility to ensure their safety and efficiency in heavy working conditions.

MDPE Gas pipe production is yellow or black with yellow stripes. This enables ready identification of the pipe in the ground as gas pipe.

According to customer requirements, gas pipes can be in grades PE-80 & PE-100 for gas applications and in sizes 20 mm to 630 mm (outer diameter) in all pressure ratings.
Standard lengths of pipe are 5.8, 11.8 and 12m meters. Pipe sizes up to 63 mm can also be supplied in coils in lengths of 50, 100 and 150 meters. Lengths can also be supplied by arrangement.
MDPE Gas Pipe Catalog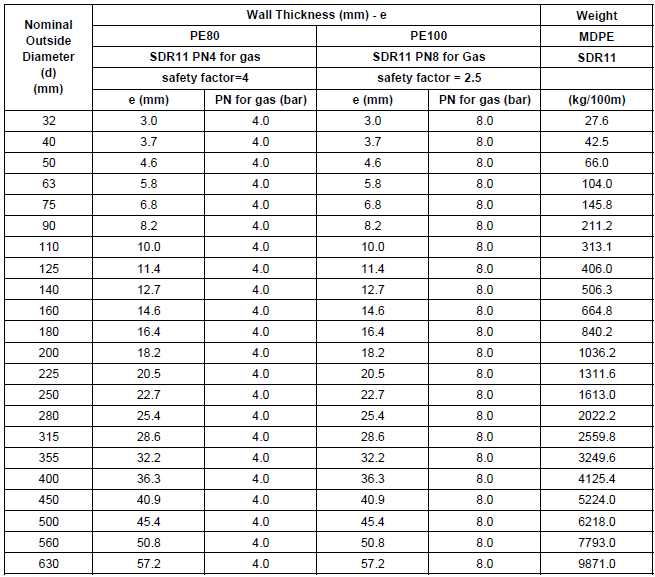 Thông số kỹ thuật
MDPE Pipes conform to national and international standards such as the ISO-4437, ISO-4427, IS-14885, BS-7281 and DIN-8074/75.
Pressure ratings:
- PE80, SDR11 - PN4 for Gas
- PE100, SDR11 - PN5 for Ga
Note: SDR is the standard dimension ratio and defines the wall thickness of the pipe in the diameter.