Van bướm ASAHI - Type 57 (DN40 - DN350)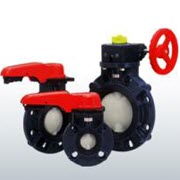 Butterfly valves are named for the wing-like action of the flow-controlling disc, which operates at right angles to the flow. The disc has about the same diameter as the connecting pipe, and the flow is straight through, with a low pressure drop. Maintenance is easy due to the small number of moving parts. The butterfly valve can be used either as an on/off or modulating type of valve. Asahi/America has recently developed the advanced Type 57 Valve, which has no metal to media or environment contact whatsoever. These valves may be operated manually, electrically, or pneumatically.
New Design Features
Flange Stopper - Prevents over-compressing liners due to improper installation
Absorption Channel - Never worry about an over-tightened liner causing excessive stem torque
Spherical Disc - Gain higher Cv and extended valve life cycle as a result of new disc design
Plasgear Plastic Gear Operator - The first industrial, non-metallic gear box - Offers superior corrosion resistance
Features and Benefits
Standard model (1 1/2"DN40 - 14"DN350) has PVC body and PP disc for better chemical resistance at temperatures higher than can be achieved with PVC.
Our 316/403 stainless steel shaft has full engagement over the entire length of the disc and is a non-wetted part, totally isolated from the media.
Only solid and abrasion-resistant plastic disc and elastomeric liner are wetted parts.
ISO bolt circle on top flange - no body or stem modifications required for accessories.
Typical Applications
Chemical Processing
Water & Wastewater
Landfills
Irrigation
Food Processing
Mining
Available Actuators
Series 79 Pneumatic
Series 92 & 94 Electric
Series 83 Electromni
Options
Pneumatically and electrically actuated with accessories
Alternate discs:
(I) PVC : 1 1/2" - 14"
(III) PVDF : 1 1/2" - 14"
Gear operators for 1 1/2" - 6"
Lug style (stainless steel 304 or 316) as blocking and end-of-line applications
Stems in 316 stainless steel, titanium, Hastelloy C® etc.
2" square nut on stem
2" square nut on gear operator
Stem extensions (single stem and two-piece stem)
Locking devices (gear type - standard on lever)
Chain operators
Manual limit switch
Tandem arrangements (patented by A/A, Inc.)
Thông số kỹ thuật
Sizes:Lever: 1-1/2" - 8"
Gear:  8" - 14"
Models:Wafer Style
Operators:Lever and gear
Bodies:PVC, PP and PVDF
Discs:PVC, PP and PCDF
Seats:EPDM or FKM and Nitrile®
Seals:EPDM or FKM and Nitrile®
Stems:403 and 316 stainless steel, titanium, Hastelloy C®