Phụ kiện đặc biệt UPVC & CPVC (SPEARS)

Spears PVC & CPVC Expansion Joint
Linear expansion and contraction from temperature fluctuations can be a major problem in thermoplastic piping systems. Forces left uncontrolled can literally tear systems apart. Spears® Expansion Joint allows a telescoping movement of an inner pipe within a firmly mounted outer tube to eliminate such damage. Available for CPVC 1/2" through 12" and PVC 1/2" through 14" IPS piping systems in 6" or 12" maximum travel lengths. Custom produced for virtually any pipe diameter.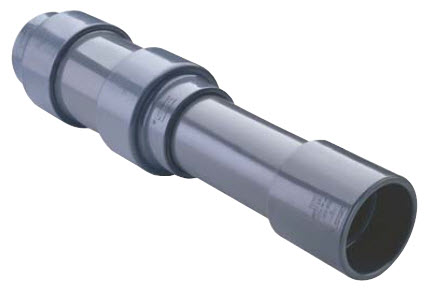 PVC & CPVC Elastomer Expansion Joints
Elastomer Expansion Joints allow for expansion, contraction, laterals and angular movement in piping systems. Ideal for use on pumps, chillers, cooling towers, etc., to absorb pipe movement and stress, compensate for minor misalignment and off set, aid in system noise reduction and vibration dampening, and to help protect against start-up surge forces. Features reinforced Double-Arched tube design in chemically resistant Neoprene or optional EPDM elastomers. Produced in IPS sizes 3/4" through 3" with PVC or CPVC Union end connections in Socket or Spears® Patented Special Reinforced (SR) Female Plastic Th reads for convenient, reliable installations.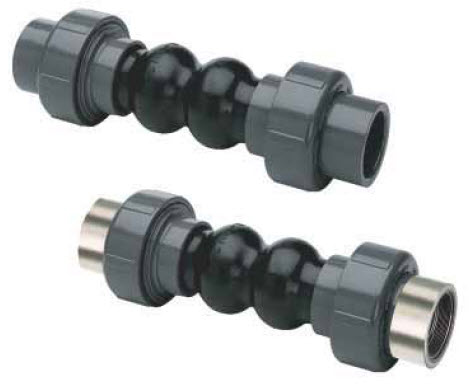 PVC Insert Fittings for Use With Polyethylene Pipe
Engineered to provide positive grip and ease of installation. High quality and reliability have made Spears® insert fi ttings the preferred choice for irrigation and O.E.M. applications. A wide variety of PVC insert confi gurations and adapters are available for use with polyethylene pipe sizes 1/2" through 4", plus 6" & 8" Couplings and Adapters for lay-fl at type irrigation hose. Special 3/8" barbed configurations in PVC and PP allow clamp-free connection to 1/2" I.D. polyethylene irrigation hose.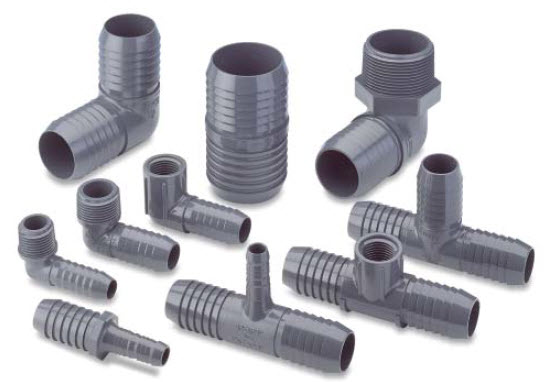 Strong and Reliable Metal-to-Plastic Transitions
Spears® Threaded Metal Insert and Stainless Steel Collar are molded-in-place as an integral part of each fitting for superior strength. Secondary O-ring seal compensates for expansion and contraction variations between materials. Low profile design accommodates streamline installation.
Superior Metal-to-Plastic Transition Strong Industrial grade metal-to-plastic Schedule 80 Transition Fittings feature molded-in-place metal threads with formcompressed O-ring for optimum expansion and contraction barrier, ASTM Schedule 80 slip sockets and ANSI spectapered pipe threads for leak-tight connections.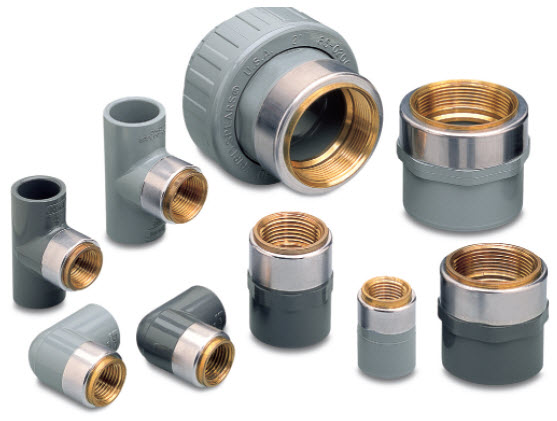 SPEARS PVC & CPVC Tank Adapter
• Heavy-Duty: Designed for easy adaptation and a free flow of liquids for tank or drum drainage or filling, or as outlets for distribution into a piping system, these Spears molded tank adapters withstand many times the most extreme service requirements.
• Assembly to a tank is simple: cut a hole in the tank wasll (using a hole saw) to the the dimension for your fitting size. Remove the lock nut from the fitting, leaving the EPDM gasket on the body. Insert the body through the hold in the tank from the inside, trapping the washer between the tank wall and the shoulder of the tank adapter. Screw the lock nut back onto the body for a tight, leak-free installation.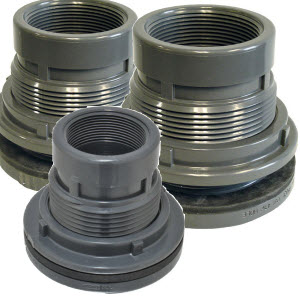 PVC & CPVC Hot-Tap Saddles - Allows Connection to Existing Pipelines Under Pressure
Specially designed tapping saddle allows pipe branch connection to pressurized "Hot" lines without system shut-down. Available in PVC White, Gray or CPVC Gray configurations.
• Industrial Grade Bolt-on Saddle with EPDM or FKM O-ring Seals and Choice of Zinc Plated Steel or Type 316 Stainless Steel Hardware.
• Built-in Brass or Stainless Steel Cutter Easily Cuts Hole in PVC, CPVC, HDPE and PP Pipe. Special Design Captures and Retains Coupon from Hole.
• Pressure Rated to 235 psi @ 73°F.
• Available to fi t IPS Pipe 2" through 8" with Versatile 3/4" Socket - 1" Spigot Combination Branch Outlet or 1"-1/2" Socket - 2" Spigot Combination Branch Outlet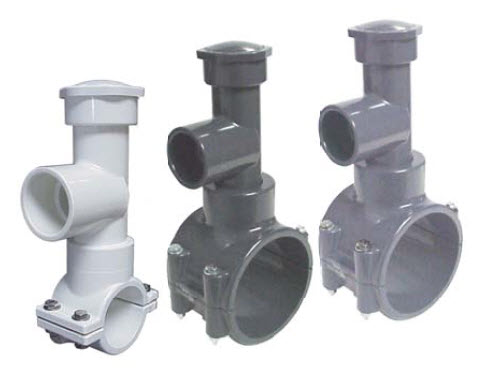 PVC & CPVC CLAMP-ON SADDLES - Simple Two-Piece Design Engineered for Reliability
Spears® PVC & CPVC Clamp-On Saddles allow quick, easy and reliable addition of branch lines to existing piping system lines. Th ese versatile saddle units can be used in either temporary or permanent installations on all types of pipe with IPS (Iron Pipe size) outside diameter, such as PVC, CPVC, Polyethylene, Polypropylene and Steel.
Low Extractable PVC Piping System (Clean PVC Piping System)
Non-Contaminating PVC Material Exceptionally Smooth Surface Characteristics Low TOC & Chemical Extraction Fast Particle Rinse Up
Spears® Low Extractable PVC provides a superior, cost effective alternative to conventional high purity piping system materials while providing ease of installation without jeopardizing water quality. Specially developed for ultra-pure water systems in semiconductor, electronics, university research laboratories, hospital dialysis, industrial laboratories, Federal and state police forensic laboratories and biotechnology applications, Spears® Low Extractable PVC material has been subjected to independent laboratory leach studies during both static and dynamic exposure to 18.2 meg-ohm deionized water. Tests have shown relatively low TOC, Anion/Cation and trace metal contamination levels in comparison to conventional high purity piping system materials including PVDF and Natural Polypropylenes.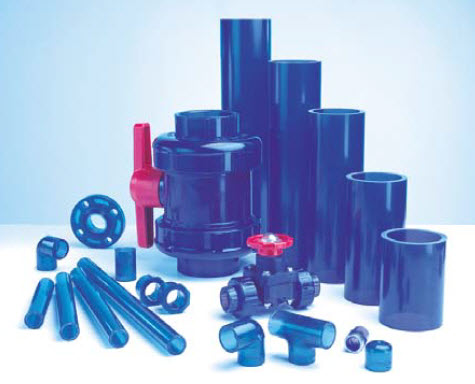 PVC & CPVC THERMOPLASTIC CUSTOM FABRICATION
Custom Component Fabrication For Virtually Any Piping System Need! Spears® has the capability to build custom piping system components to virtually any specifi cations for either pressure or nonpressure applications. Spears® experience in piping system component fabrications provides the highest quality and technology available for a variety of industry needs including Agriculture, Turf Irrigation, Water Parks, Aquariums, Pulp & Paper, Industrial and Chemical Processing.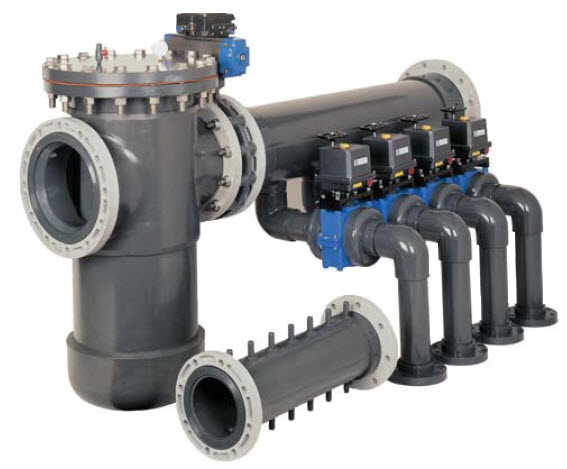 Thông số kỹ thuật